SBA 8(a) Sole Source
Kreative Technologies, LLC is a recognized 8(a) certified company by the U.S. Small Business Administration (SBA). As a federally recognized entity, Kreative Technologies can offer our Government customers several benefits to streamline the acquisition process.
The benefit of this designation is that it allows the federal government to award contracts to 8(a) certified companies on a sole-source basis as long as the total contract value does not exceed $4,000,000. This eliminates the time consuming process of Response for Proposal (RFP) development, waiting for contractor responses, evaluating all submissions, and mitigates potential protests.
Steps to Award an 8(a) Sole Source Contract
| | |
| --- | --- |
| 1. | The Government Program Manager develops a Statement of Work (SOW) and secures funding. |
| 2. | The Government Program Manager submits a request to Agency Contracting Officer. |
| 3. | The Government Contracting Officer sends an offer letter and SOW via email to Kreative Technologies' SBA Business Opportunity Specialist (BOS) & dcofferletters@sba.gov; please reference the SBA DC Office website for more information |
| 4. | SBA confirms eligibility of Kreative Technologies and authorizes the negotiations at which point the Agency Contracting Officer sends the SOW and Request for Proposal (RFP) or Request for Quotation (RFQ) to Kreative Technologies. |
| 5. | Kreative Technologies submits proposal to the Government for evaluation which may be negotiated. |
| 6. | Contract is awarded to Kreative Technologies. |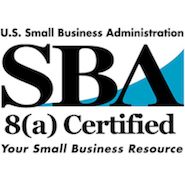 GSA IT Schedule 70
GSA IT Schedule 70 is an indefinite delivery/indefinite quantity (IDIQ) multiple award schedule, providing the federal government with direct access to innovative information technology products, services and solutions. Schedule 70 is the largest, most widely used acquisition vehicle within the government.
| | |
| --- | --- |
| Contract Number: | GS-35F-450DA |
| Schedule Title: | 070 – General Purpose Commercial Information Technology Equipment, Software & Services |
| Period of Performance: | August 10, 2021 through August 09, 2026 |
| Special Item Numbers (SIN): | IT Professional Services, Health IT & Highly Adaptable Cybersecurity Services |
| Business Size: | Small Business |
| Geographic Scope: | 48 Contiguous States, Alaska, Hawaii, Puerto Rico, Washington, DC, and U.S. Territories. |
| Email: | info@kreativetech.com |